At Jungle Computer, we're committed to making your Business Services free of frustration by providing you with top-notch IT service and support that's just a phone call away. Keep your business services running with ease.
Our Support Staff Will:
Diagnose any problems and find the best solution for your growing business.
Expertly manage your system maintenance, with patches and updates.
Provide quick and responsive IT support when you need it.
Help Desk Support — We serve as a single point of contact for employees within your organization to request and receive IT support.
System Maintenance — Proper maintenance including back-ups, troubleshooting, patches, upgrades and file system cleaning.
Deskside Support — If resolving an issue requires an onsite visit, we are at the ready to send one of our technicians to your location.
Remote Support — Our remote support platform enables our IT staff to work on your workstations at your facility via the internet to deliver, fast and safe assistance.
Software Upgrades — From planning to configuration and testing, Jungle Computer makes the process of upgrading your software as simple as possible.
System Monitoring — We will monitor your environment to ensure the best performance, including servers, databases, applications, cloud services and every workstations.
We repair and upgrade almost all brands of computers, including mass-merchandised computers sold at box stores like, Hewlett Packard/Compaq, Packard-Bell, e-machines, and others, mail order and on-line brands like, Dell, Gateway, Alienware, etc., Custom-built white box and clone machines, and any computer sold like, Frontier, Acer, Apple, Inteva, KDS, Magitronic, Samsung, Hyundai, Leading Edge.
At Jungle Computer we repair them all quickly, affordably, and professionally.
Regardless of your Business Services, we will assist you in resolving them all. Whether it is Internet setup, installation, debugging, or email and/or browser issues, our technicians will get you up and running. For home or business, Jungle Computer will fix your Internet so it is working for you.
---
Jungle Computer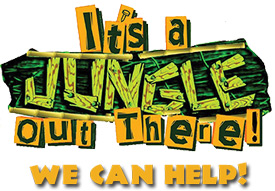 67 – 69 Public Square
6th Floor
Wilkes-Barre, Pennsylvania
18701-2500
Talk to a Jungle Computer Professional …
570.970.6555 | PHONE
info@junglecomputer.com
Pennsylvania Contractor License:
# PA114006