Has your computer slowed down and are you looking for Virus and Spyware Removal services from a local computer service company? Are you seeing unwanted ads and pop-up windows? Your device may be infected with a virus, malware, ransomware or spyware. Jungle Computer has the tools and expertise to get things running clean and safely again.
If your device has been infected, we'll remove the viruses and spyware. We can also fix operating system issues, including start-up errors and the blue screen of death.
We'll check for viruses and spyware, and diagnose all operating system issues.
We'll recommend solutions to prevent future infections, and install any critical updates to your software.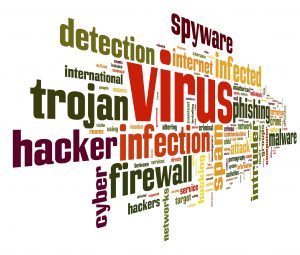 If you don't have antivirus software you can't virus and spyware removal till you do, you may not even realize you have a virus. Viruses usually embed themselves deeply in your computer, and if they are sending out spam in your name, you'll have to notice it or be notified by friends to realize what's going on. Other viruses will slow or disrupt your computer's performance in unusual ways, or lock you out from accessing certain files.
Spyware can often appear as constant, unwanted pop-ups, even when you're not browsing the internet. You may notice that settings have changed and you're unable to change them back, or you may see new components in your browser that you never downloaded. You may also experience slow or unusual computer performance, including frequent error pages and crashes.
Having updated antivirus and spyware software on your computer is critical to avoiding these kinds of infections. The software can alert you when it detects or blocks a potentially dangerous file, software or website. It can also keep your system healthy by scanning for malware and removing it.
Is it possible my problem isn't a virus or spyware?
That is a possibility, in many cases hardware issues can create similar problems within your computer, including slow performance, system errors and crashes, issues with starting up and shutting down, etc. During the diagnostic process, Jungle Computer will work to discover the full extent of the problem to make sure that any repairs will take care of your computer issues thoroughly.
---
Jungle Computer LLC.
67 – 69 Public Square, 6th Floor
Wilkes-Barre, Pennsylvania 18701-2500
Talk to a Jungle Computer Professional
570.970.6555 | PHONE

480.624.2500 | Contact Us Domain Hosting Sales & Support
Pennsylvania Contractor: # PA114006
Directions to Parking Garage …


We know that parking is always an issue at a downtown location in Wilkes-Barre. Our building connects directly via our bridge on level 4 to the large, clean and safe 800+ car intermodal transportation facility, making parking a snap for our clients.