A-AH16K8-2TB H.264 16CH AHD 1080P 960H Hybrid DVR with 2TB, 8 x Outdoor 1080P HD IR Cameras System 1080P-Lite/720P/960H/D1/Half D1/CIF Real-Time Recording / Playback Quality.
Recording 1080P-Lite/720P @ 240 FPS on AHD 1080P/720P cameras, or recording 960×480 / 720×480 / 720×240 resolution at 480 FPS on analog cameras.
Including 8 x 2 Mega-Pixel 3.6mm wide-angle IR bullet cameras. 2TB HDD pre-installed.
Dual streaming technology to encode recording stream and network stream separately. Support NAT function, QR code scanning by mobile devices. Free DDNS accounts.
Powerful Configuration capability of Live-view, Recording, Playback, Motion, Backup, Remote access. Intuitive graphical user interface.
Support live view and remote configuration via all web browsers on Mac and PC. Streaming live video / playback, 1 screen zoom-in on mobile smart phones or tablets via free app.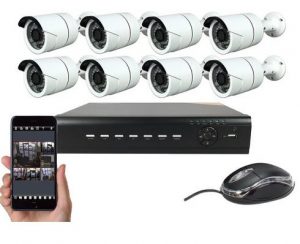 Package includes:
A-AH16SL 16CH 1080P-Lite/720P/960H DVR x 1
A-MHDBF1 2MP Bullet IR Camera x 8, 66 Feet BNC Cable x 8, IR Remote Control x 1, Mouse x 1, Power adapter & Power splitter, one 2TB HDD Pre-installed.
1-year warranty on DVR, cameras & accessories. 3-year Labor warranty. Life time Technical support.
1080P-Lite/720P Resolution
1080P-Lite/720P is the latest industrial standard of recording resolution in analog HD surveillance systems, which allows you to record video at clear image size of 960 x 1080/1280×720 pixels, seeing more details.
P2P Supported
Ever find network configuration and port forwarding depressing and troublesome? Leave the geeks stuff to tech people and live our life easier.qr-code.jpg
With the newly implemented software, you can easily access your system via mobile device in a few seconds.
Simply scan the QR code from the Information menu using your mobile phone and enable NAT feature, you will be able to live stream the video footage anywhere around the globe using your mobile device with a peace of mind!
Cross Platform Compatibility
The 16CH DVR supports live streaming video or playback on PC, Mac OSX, iPhone, iPad, Android phone and tablet.
Users are also able to configure the DVR settings via web browsers such as IE, Firefox, Chrome on PC or Safari on Mac.
Up to 100 channels of live video can be consolidated on 1 screen on PC or Mac through the attached powerful CMS software.
Intuitive Mobile App
Watch your properties on the go with the SuperLivePro mobile app and the SuperLiveHD tablet app. It is capable of viewing live video feed, playing recorded footage, taking snapshot, controlling PTZ cameras, and switching between multiple DVRs.
You can even configure your DVR settings on your mobile phones or tablets!
Compatible with iPhone, iPad, Android Phones and Android Tablets. Monitor your precious assets anytime and anywhere.
HDMI Video Out
Built-in HDMI video output allows users to view cameras on high resolution TV up to 1920 x 1080. For users' convenience, the DVR can output video via HDMI and VGA at the same time.
---
Jungle Computer LLC.
67 – 69 Public Square
6th Floor
Wilkes-Barre, Pennsylvania
18701-2500
Talk to a Jungle Computer Professional …
570.970.6555 | PHONE
info@junglecomputer.com
480.624.2500 | PHONE Domain & Hosting Sales & Support ONLY …
Pennsylvania Contractor License:
# PA114006
Located In The:
Luzerne Bank Building 6th Floor