From Wikipedia, the free encyclopedia
Scranton is the sixth-largest city in the Commonwealth of Pennsylvania behind Philadelphia, Pittsburgh, Allentown, Erie and Reading. It is the county seat of Lackawanna County in Northeastern Pennsylvania's Wyoming Valley and hosts a federal court building. With a population of 77,118, it is the largest city in the Scranton, Wilkes-Barre, Hazleton, PA Metropolitan Statistical Area, which has a population of about 570,000.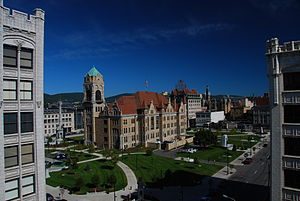 Scranton is the geographic and cultural center of the Lackawanna River valley, and the largest of the former anthracite coal mining communities in a contiguous quilt-work that also includes Wilkes-Barre, Pittston, and Carbondale. Scranton was incorporated on February 14, 1856, as a borough in Luzerne County and as a city on April 23, 1866. It became a major industrial city, a center of mining and railroads, and attracted thousands of new immigrants. It was the site of the Scranton General Strike in 1877.
People in northern Luzerne County began to seek a new county in 1839 but the Wilkes-Barre area resisted losing its assets. Lackawanna County did not gain independent status until 1878. Under legislation allowing the issue to be voted by residents of the proposed territory, voters favored the new county by a proportion of 6 to 1, with Scranton residents providing the major support. The city was designated as the county seat when Lackawanna County was established in 1878, and a judicial district was authorized for it in 1879.
---
Jungle Computer LLC.
67 – 69 Public Square
6th Floor
Wilkes-Barre, Pennsylvania
18701-2500
Talk to a Jungle Computer Professional …
570.970.6555 | PHONE
info@junglecomputer.com