From Wikipedia, the free encyclopedia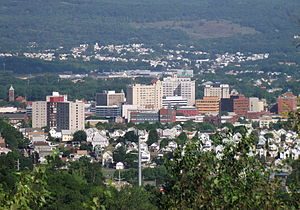 Wilkes-Barre is a city in the Commonwealth of Pennsylvania and the county seat of Luzerne County. It is one of the principal cities in the Scranton, Wilkes-Barre, Hazleton, PA Metropolitan Statistical Area. Located at the center of the Wyoming Valley, it is second in size to the nearby city of Scranton. The Scranton, Wilkes-Barre, Hazleton, PA Metropolitan Statistical Area had a population of 563,631 as of the 2010 Census, making it the fourth-largest metro/statistical area in the state of Pennsylvania. Wilkes-Barre and the surrounding Wyoming Valley are framed by the Pocono Mountains to the east, the Endless Mountains to the west, and the Lehigh Valley to the south. The Susquehanna River flows through the center of the valley and defines the northwestern border of the city.
Wilkes-Barre was founded in 1769 and formally incorporated in 1806. The city grew rapidly in the 19th century after the discovery of nearby coal reserves and the arrival of hundreds of thousands of immigrants who provided a labor force for the local mines. The coal mining fueled industrialization in the city, which reached the height of its prosperity in the first half of the 20th century. Its population peaked at more than 86,000. However, Following World War II, the city's economy declined due to the collapse of industry. The Knox Mine disaster accelerated this trend after large portions of the area's coal mines were flooded. Today the city has a population of 41,498, making it the the largest city in Luzerne County and the 13th-largest city in Pennsylvania.
---
Jungle Computer LLC.
67 – 69 Public Square
6th Floor
Wilkes-Barre, Pennsylvania
18701-2500
Talk to a Jungle Computer Professional …
570.970.6555 | PHONE
info@junglecomputer.com